About The Attorney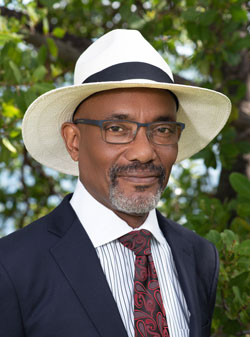 Reginald (Tony) Moss, Jr.
Reginald (Tony) Moss, Jr., has practiced criminal defense in the state of Florida since March 1988. He has been admitted to practice before all Florida state courts, the U. S. District Courts for the Southern and Middle Districts of Florida, the U.S. Court of Appeals for the Eleventh Circuit, and the U.S. Supreme Court. He has been qualified to accept indigent appointments in the 11th, 16th, 17th, and 20th Judicial Circuits of Florida and in the U. S. District Courts, and also to appear as "learned counsel" in federal death penalty prosecutions nationwide. He has defended against a wide variety of state and Federal cases, ranging from drug offenses to bank fraud, from white collar crimes to capital murder prosecutions (including over 80 death-eligible capital cases, four of which were tried to a penalty phase verdict, without losing a single client to Florida's Death Row).
Tony is a proud Life Member of the Florida Association of Criminal Defense Lawyers (statewide and Miami chapters), and is also an active member of the National Association of Criminal Defense Lawyers.  He has been a longtime member of the FACDL-Miami Board of Directors, serving on a variety of committees, and was elected chapter secretary in 2009-10. In addition, he has served on a number of professional and civic organizations throughout his career, ranging from the Florida Fish and Wildlife Commission (Commissioner, 1997-2001), to the Greater Homestead-Florida City Chamber of Commerce (2007-2011),  to  Florida Bar Grievance Committee 11P (1997-2000) and Committee 11L (2010-2013).
As a believer in the maxim, "Each one, reach one . . . each one, teach one," Tony Moss has also volunteered untold hours toward the advancement of the legal profession and the criminal defense bar. He has served for decades as a guest lecturer and faculty member at numerous defense seminars and workshops around the country, and is especially proud to be a 2000 charter faculty member of the Clarence Darrow Death Penalty College (currently sponsored by the University of Iowa School of Law), and the recipient of the College's first Meritorious Service Award in 2003. He also provides free legal consultation statewide to prison inmates who no longer qualify for free appointed counsel, and has been a sought-after speaker for youth groups and school programs throughout Miami-Dade County.
In his spare time, Tony, who is single, is an avid fisherman, a jazz and blues enthusiast, and a lifetime fan and one-time season ticket holder with the NBA's Miami Heat. (He was there for all five Finals appearances and three world championships. Glorious days, indeed!!) He enjoys mountain biking and outdoor cooking, and has traveled extensively throughout the United States, as well as to Mexico, Brazil, the Caribbean, Northern Europe, China, and most recently Australia. On Saturday evenings from 6:00 to 8:00 p.m., he hosts a two-hour jazz program on WDNA-88.9 FM in Miami, known around the world as "The Spectrum-T Experience" (www.wdna.org/hosts). He is also the proud "papa" of two shelter mutts: Mojo, a Manchester terrier mutt, and Ranger, a golden retriever/shiba inu mix. They make sure that he always wakes up smiling and goes to bed smiling, no matter what the day may bring in between.